Medical Shredding in Philadelphia
Making sure your medical office's documents are properly taken care of is one of the most important parts of maintaining your Philadelphia practice. Not only do you have to make sure that you follow all HIPAA guidelines, but you also want to make sure that you keep the integrity of your office. You would never want to misplace information and jeopardize your companies reputation.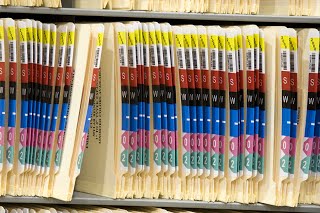 One of the most important parts of records management is properly disposing of your records. With all of the risks involved, it can be stressful to find an easy solution that makes sure you have properly destroyed everything. Really the only way to be sure that everything is completely destroyed is to shred all of your documents. That can be a huge hassle when you have boxes of paperwork to get rid of, but luckily here in Philadelphia, we offer medical shredding service options.
Our Pennsylvania contractors can help make sure that everything your office needs to have shredded, is taken care of following all HIPAA guidelines. We also shred x-rays and other files that a normal office shredder can't handle.
Whether you are looking for ongoing services or just a one-time purge, we can help with any of your medical shredding needs. Our contractors can send shredding trucks to your office and shred everything right in front of you, or pick your materials up to be shredded at a secure shredding facility in Philadelphia. Either way, your shredded materials will be taken to a recycling mill immediately after they are destroyed, and you'll get a Certificate of Destruction to keep for your records.
Stay Compliant with Privacy Laws—Enlist in a Philadelphia Shredding Service Today!
Failing to follow a safe secure disposal guideline of documents and hard drives can have serious repercussions for your business. Whether you are a health care organization or other business dealing with loads of private clientele information, hiring a professional shredding service is the best way to demonstrate your compliance with local and federal laws.
If your office is ready to get rid of all of its old paperwork, just give Philadelphia Shredding Service & Record Storage a call at (215) 874-0069 or fill out the form to the left to receive a free quote today!