Philadelphia Hard Drive Destruction
Physical files are not the only way for identity thieves to steal your private information. Your hard drives also need to be destroyed before they leave your possession. This is required for compliance with privacy laws on Pennsylvania and federal levels, including HIPAA and FACTA. Simply wiping a hard drive clean of your files is not enough to ensure they cannot be recoverable, as all files are in fact recoverable from a hard drive regardless whether or not they have been erased.
There are mainly three reasons why hard drive shredding is a better solution.
Security: there is a focus on keeping data secure through the whole process. The process complies with regulations, such as HIPAA, and maintaining clear form of confidentiality.
Time Efficiency: the process focuses on your needs, so you can drop off your hard drives or, depending on local providers, simply have someone come pick them up.
Cost: The entire process is easy and affordable. Most hard drive shredding services cost about $4-$12 per drive. The cost incurred go towards completely covering electronic assets.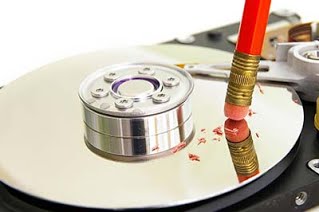 Keep an eye out for hidden hard drives.
Hard drives are hidden in many places in a home or office — each of them potentially having sensitive data stored in its memory. Commonly overlooked are scanners, fax machines, and printers, which can retain a copy of every digital file any of these devices have ever received.
Here's a list of other electronic devices vulnerable to data breaches you might not have considered:
Optical media—CDs and DVDs
Fax machines, scanners, copiers, and printers
Memory cards—SD, SDHC, MMC, compact flash, microdrive, and memory sticks
Mobile devices—cell phones, smart phones, PDAs, tablets and laptops
Floppy drives, zip disks, and magnetic tapes
PC hard drives
USB removable media such as pen drives, thumb drives, flash drives and sticks
Embedded flash on boards and devices
RAM and ROM-based storage devices
Biomedical devices—physiologic monitors, infusion pumps, ventilators, MRI, CT, and diagnostic ultrasound and laboratory analyzers
Failing to shred your old hard drives can result in severe repercussions. The destruction of digital data can only be guaranteed through hard drive shredding. Philadelphia Shredding Service & Record Storage offers hard drive shredding options, where your hard drives are pulverized to ensure their destruction. Our Philadelphia contractors can destroy your hard drive at your location or at a secure facility. After that, they melt down your pieces and recycle what is left over.
Keep Your Data Safe with Hard Drive Destruction Services in Philadelphia!
Don't leave your data vulnerable to falling into the wrong hands. Philadelphia Shredding Service & Record Storage partners with providers of secure, compliant destruction of the hard drives and all your electronic media devices. Ensure your safety by contacting Philadelphia Shredding Service & Record Storage today.
To learn more about the hard drive shredding services offered at Philadelphia Shredding Service & Record Storage, just give us a call at (215) 874-0069 or fill out the form on the left today!